"Friends. A simple word, uttered everyday to almost every person imaginable. Who are your friends? I used to think that friends were the people that you could laugh and talk to. Now I know that friends aren't that; they're the people that touch your heart. You could spend hours with them doing nothing at all and it can be the best time of your life, just because it was with them. They're the people you can share your secrets with, cry with, laugh with, and just have fun with. They don't judge you or make you change. They accept you exactly as you are. They look at you and they see a great person, one they love spending time with. You all share something in common and are tied together by memories, tears, laughs and smiles. You're tied together by love for the other. Friendship is the strangest but greatest thing in the world. I find my time with my friends, the best times of my life. My friends are my heart, my soul, my fun, my laughter, tears, love and my life."




Your Beauty lies
in Contradiction. Controversial, unpredictable, and never what anyone expects. You appearance and your personality are two opposite things. Even your appearance sends different signals to different people. To some you may look innocent and sweet, to others you look mysterious and intimidating at the same time. No one ever knows what to expect with you. You are a little bit of everything all mixed together. You can be watching the football game with the guys one minute and the next out shopping at the mall. You seem to be almost a different person every time you meet someone, but at the same time you know exactly who you are and there is always that one thing that makes you you. You enjoy keeping people guessing and people love how completely unpredictable you are.


Where Does Your Beauty Lie?
brought to you by Quizilla


Take the quiz: "WHAT RELIGION BESTS SUITS YOU?"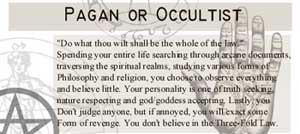 Pagan/Occultist
Do what thou wilt shall be the whole of the law. Spending your entire life searching various forms of philosophy and religion, you choose to observe everything and believe little. You're personality is one of truth seeking, nature respecting and god/goddess accepting. Lastly, you don't judge anyone, but if annoyed, you will exact some form of revenge. You don't believe in the Three-Fold Law.
What Self-Mutilation Are You?


brought to you by Quizilla