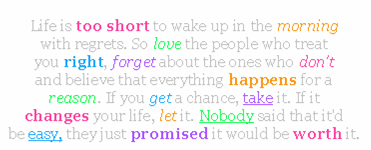 :: People don't keep journals for themselves; they keep them for others, like a secret they don't want to tell but want everyone to know ::
<3 .About.Me. <3
.Name. Ashley
.First Breath Of Air. November16, 1987
.Years. 18
.Stats. Taken <3
.Cries with. Baby Blues.
.Brushes thru. Light Brown, w/blonde highlights.
.Stands at. 5ft3
.Stuck in. Georgia
.Can't wait till. I figure my life out.
.Afraid Of. Being alone, losing someone I love, bugs.
.Likes Strongly. Hanging out with friends, family, shopping,
Music, hugs, kisses, Vodka, Captian Morgan, drugs, my car,
strip clubs, Sweet Tea, sleeping, the internet, Being a Camwhore, and many other things.
.Dislikes Strongly. Prejudice people, ignorance, Liars, cheaters,
Stupid drivers, rudeness, Drama, whores, constant bragging, theifs,
diet drinks, sushi, fake people.