Hello,
I'm not emo, no matter how much you want to think I am, and if anyone says I'm emo, I'll just laugh and say "I'm not emo, I'm me". And it's true. I don't like labels. I don't like when people walk up and say "Oh, I'm emo" or "Oh, I'm skater" because I don't really care, and it looks like you're trying too hard.
I'm a poet, a musician, and a writer. I'm working on a novel now called Midnight Path that I'm probably never going to finish, but what the heck, why not?
I don't cuss or cut myself or any of that othe remo stuff. I'm dark, I will admit that. I like "emo" music. You know? The dark hardcore stuff like Skillet and Evanescence. But not rap or teeny-bopper crap. Some songs like "Bleeding Love" and other stuff like that is okay, but other wise: NO WAY.
Well, I'll go now. Maybe write a poem and stick it on here in a second. So, be prepared.
Oh, and I am totally in love with Gordy Micheals. And guess what? He's gay. Just my luck.
Much love,
Raign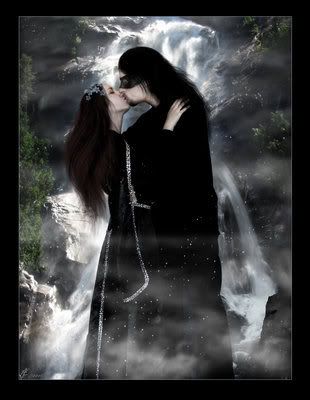 The spirit of a warrior never dies.
The heart of a artist always keeps its ties.
The life of a king is never forgotten,
When he tries hard and never disrespects what he has gotten.
Thy love of an magician is always kept inside,
But it is let out when broken hearts proside.
When ghosts take control,
All mending is let go.
Tracperancy makes the wildest dreams live on,
But coherantcy is that is gone.
Single minded to the point of sanity,
Hunting isn't only just amnly.vc
Watching every drop of life run dry,
And all it does is leave you asking why.
Why did it have to be him?
When all he done was win.
And care for everyone,
His day was not done.
Love was all it held,
But no one knows how he fell.