My mom, brother, and brother's girlfriend came over last week. Joey and Katie left two days later, but my mom left on Monday. I still don't know why Joey and Katie came. They didn't talk to me. They didn't ask. They locked themselves up in my unfurnished second bedroom (my PLAYROOM) while they were here. I doubt their innocence. I resented their being here. Not just for the showing up uninvited, but also the sheer unfriendliness. Joey smartassed me when I answered his few questions and Katie followed his lead. They killed a roll of toilet paper in the bathroom, just the two of them, and my toiletries on the counter were messed with. I also saw her walk down the hallway in just her sports bra. I'm sorry, what? I don't care if you ARE going down to the fitness center.
Next time, they can sleep in the damn car.
Travis, Heather, and Aaron thought it was hilarious telling me how much they were violating my box fort and how much sanitation protocols would be needed. Uuugggh damn it, this would be hilarious if it was anyone but me! (And Aaron's all like,
hey babe, if you want to reclaim it, just say the word; I can be there in a month and a half.
My life is a series of WTFs and headdesks.)
On Saturday I went thrift store shopping with my mom. I got books! And shoes! I am excited. We also picked up a busted, rotted out, rusted old chest that looks like it was lifted straight from a sunken pirate ship. My goal is to fix it up for my mom's classroom. I'm excited. This is my favorite kind of domestic project! I get to go shopping at Home Depot and borrow coworkers' power tools! Saturday night was the cookout with the small group, just in case I move. Since everything's still in limbo (but it looks like I'm staying, aargh). That went decently. My mom came and I think she gets why I'm so unsatisfied with my social life here. So she, she of all people, got on my case about meeting more people. After the cookout, I had a Skype conference call with Jessica and Heather. They gave me shit about Aaron. And then we just hung out and had girly discussions about how tall our menfolk were and blah blah blah. We have a common thing for tall, apparently.
Sunday my mom slept in and I did my church thing. Then we drove up to Great Smokey Mountain National Park. That was a fun drive! Lots of gear changing and 8% grades and beautiful views. My gas gauge went wonky again. We took Sheppy and let him prance around open green spaces and splash in a river. He had a FANTASTIC time. I had no idea that he liked stomping in rivers, but oh, he is all over that. I'll have to bring him to some locally. Maybe we'll go up to Tallulah some weekend. We got McDonalds on the way back down. Sheppy got some fries and then paaassed out. I have pics of him sleeping with his head still up. So cute.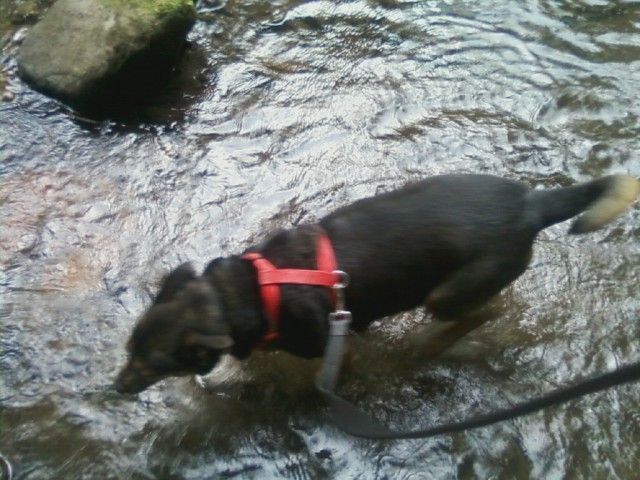 We did some brief relationship talking. She's baffled about this whole relationship without physical dating. I guess it's a generational thing. And if that meant that I wasn't going to be interested in other guys, if he wasn't interested in other girls, the odds of him having a girlfriend in every state, how relieved I am that he doesn't let me walk all over him, et cetera.
Monday my mom took me to work. I discussed dog river possibilities with my supervisor. At lunch I ate quickly, then went outside to call Aaron. We're still trying to work out a vacation of some kind. Military bases being military bases keep getting in the way. So he told me about how he wasn't sure August was going to work.
Me: Okay. Then do you want me to tell you something so you can be thwarted and pissed off, or do you want to stay blissfully ignorant?
Him: [His brother] already told me about a show I'm missing. I'm already thwarted and pissed off. Just tell me.
Me: Linkin Park and Incubus, Atlanta, August 19.
Him: ...FUCK IT I'M MAKING THIS HAPPEN.
I lol'd.
I told him that I'd considered just telling him to get in by a specific time, then stopping at the venue as a big surprise, and there was an actual money talk. It doesn't come up too often, what with him making over twelve times what I do. The tickets would be almost a fourth of my paycheck, but barely noticeable out of his, and he does NOT want me blowing money like that. He made a joke about marrying me and knocking me up, I said I was running away to Montana, he said he would find me and the poke war would never die, I said that almost sounded threatening. Same old, same old. It was nice to HEAR it rather than read it, though.
After work Monday, after I'd eaten something and there was some time for rush hour to lighten, I drove my mom down to her brother's place in Phenix City. It's about a three hour drive one way. There was some more relationship talking, but I don't remember what about. I was too tired and resigning myself for a late night for much of a heart to heart. I saw my godparents and cousins, then headed back out.
This was actually pretty sweet. The trip up was great. I got gas by my uncle's house. The trip up 185 was easy, although there was a moment where I was afraid I was about to get pulled over for texting. I wasn't texting so much as I was poking on Facebook via SMS. It's only three buttons to text a poke back, so I don't really have to look. I kept the phone under my leg to hide the light and for the vibration. That'll jerk you awake. I also figured that if I got really sleepy, I'd just call him and milk some advantages out of that 8.5 hour time difference.
When I hit Atlanta, I set up Halestorm, turned it up to as loud as the car could play, and floored it straight through the 75/85 merge. It. Was. Awesome. I had this big grin going as the music blasted and I sang along at the top of my lungs. There was this moment as Rock Show was playing that I was text-poking back and was very aware that I was in the midst of my favorite driving conditions (late night, loud music, fast freeway, lit up skyline), singing my favorite songs, and my phone's being lit up by the boyfriend that I
met
at a rock show. It was one of those nearly perfect surreal moments. I didn't even mind a 30 minute detour. I probably didn't need it, but I saw the construction trucks setting up ON my exit, and wasn't going to mess around with that.
I got in at 3am, fired off a message saying thank you for the constant poking while I was driving, and crashed.
Tuesday, I was 45 minutes late for work due to oversleeping. But I made it, and was triumphant, and Patrick ordered doughnuts. We're still eating them. There are... 3 left, I think, for Thursday. I was somewhat hoarse from all the 'singing' the night before. I slogged through work, pounding Mountain Dew. Got home and was in bed by 6pm. I woke up at like 9:45, though. My neighbors were having an impromptu block party, and I heard talkof football. Cannot resist. I got dressed again, took Shep out, and joined the party.
I did NOT know that my neighbors were all football fans and metalheads. This is exciting news. We could talk music endlessly. I also did not know that one of my neighbors works for UGA in a related department. He remembers every interaction we've ever had. I remember barely one. He and his buddy (they're about 30) were 'subtly' jostling for position and conversation priority and flipping each other off. Complimenting my hair and shit. I was very happy for excuses to drop the 'boyfriend' word and I don't think that they care, as drunk on cheap beer and pheromones as they were. I had like three glasses of cheap wine courtesy of my neighbor Donna.
They insisted that they had taken care of my cat for awhile. They'd seen her outside and loved her and wanted to keep her. I didn't believe them--Lena hasn't ever made a bid for freedom that I've seen, but there were weekends of dogsitting--so I went and got her. I carried her to the patio and said, "This cat? You had this cat?" They had to reluctantly admit no, not that one. Donna and Kit cooed all over her and she purred at them, even as she WTF'd about being outside. I declared her my cuddle buddy while my boyfriend's in Afghanistan and they were sympathetic and the guys pretended not to hear. After I put Lena back inside, one of them, Joe, told me that he'd give me an FSU poster he had lying around (whut) and Justin friended me on FB.
At 1am I went inside, told Aaron I <3'd him mostest because I was feeling damn grateful for him just then, and went back to bed.
I've just been disoriented today. Couldn't remember what day it was. Slouched in my chair, staring at Facebook and reading Amazon reviews for hours. I did SOME work, but not nearly enough to justify my paycheck. Whatever, as long as they keep paying me. I went to sleep right after work again and got up at 10 again, feeling faintly nauseous. Real food and lots of juice has helped. I am too old for 48-hour strings like the last one. I can't wait to go back to sleep. I didn't go to group tonight, citing a need for an early bedtime. And it's true; I usually get home close to 9 after group, and that's just not okay today.
On Monday, I found out that after we'd officially gotten together, Brad told Aaron that it was pretty much inevitable.
"Dude, it's me. I knew it was bound to happen"
is apparently what he said. Which solidifies my belief that when people demand how exactly this meeting happened, I really just need to say 'you had to be there.' No one who was there batted an eye. I'm excited and apprehensive about whenever the next time he can get out of there and see me again. Will it be the same? Oh, the questions and perils of long distance.
It probably will. He's pretty serious about it. He couldn't keep his hands off me and was getting jealous of my attention since literally the moment we met. I don't think that's changed much. And now we actually KNOW each other! Fascinating, I know. I'm curious to see how that changes things. He's all... wanting to take care of me and shit. I'm still trying to process this in a way that doesn't conclude with the phrase 'it's weird.'
My life is a chick lit novel.
Debby went and hit my part of Florida and I wasn't there. I resent this. I resent missing tropical rain and the beach all stirred up, and my dad's traditional grilling of steak in between rain bands. The super flooding around Wakulla was a little bit east of my people, so we're all okay. I'm just ragingly jealous that I couldn't be a part of the frolicking and hurrikeggers and grilling. It's boring and dry and sunny here. Won't even rain in the afternoons.
This
is also my favorite picture ever. It's my desktop background at work now. And this is the best summary of Florida that I've ever seen:
Firefighters blocked from getting to house fire by flooding, alligator
. On fire while flooded and guarded by an alligator. YUP.
And it's midnight, so I'm going back to bed. My eyes are getting achy, and I've listened to the entire Linkin Park album. I've got nothing else to stay awake for.