First, Happy Birthday to my SIL! It was technically yesterday, but we went out on Sunday. I spent both days with her ALL day, so I am just now getting online to post about it... hahahaha
Sharon... since I didn't get balloons this year... I thought you'd like this one....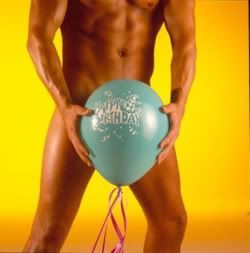 No, craning your neck and desperately jabbing at the balloon will NOT pop it... so... just enjoy it. LOL
So, for my SIL's bday, we went to the movies and.... I FINALLY saw Twilight... and I freaking LOVED it! It was SO amazing to see my fave (all?) characters come to life. I was totally geeked out while watching it and as soon as I would see someone that was my vision in the book I would whisper to my brother in law (who was sitting beside me), "Hey, I bet that's Mike" or "Ooooooh Emmett is SO freakin' fine!" lol
My family all went- hubby (who really loved it and asked me to look up some books about vampire and werewolf lore at the library for him after seeing it!!), my son (who just loves vampires - so much that he was one for Halloween), my sister in law (who is a romance freak, like me, LOVED the movie) and my brother in law. Everyone raved about it and I'm very pleased. I am beyond shocked that my hubby was interested in looking up books about lore though. I mean... what? He is NOT one to read... ever. Something that can get him interested in a book is amazing! LOL
My only sour note about the movie was...
**spoiler**
*
*
*
*
*
*
*
*
*
*
*
Stephenie Meyer herself. I mean, we know who she is, what she looks like, etc... why was she in her own movie? Why? Yes, it was only for a second and in the diner where anyone could be, but there was even a line for her, "Here's your order, Stephie" (or something like that). If she were just sitting there, it may not have irked me so bad, but *gag* I mean, it's like they tried REALLY hard to show her in there or something. I know Hitchcock and others cameo(ed) in their own films, but it just seemed forced and it was just gross. Good for her and all, but she seems really pretentious and... well, I don't like her. This series in particular is amazing to me, but her attitude about the whole thing sours me on her as a person. But... that won't stop me from seeing the rest of the movies as they come out and buying the DVDs. Yes, making her pockets fatter, but... it's for my own pleasure, so... lol
Overall, TOTALLY pleased with the movie and AM going to own that on DVD (for my birthday maybe??)... *grins*
We had a nice dinner for my SIL's bday and watched some movies at home, then we watched This Christmas and Sisterhood of the Traveling Pants 2 yesterday... Both very good! Have you seen This Christmas? One part was particularly hilarious. A woman finds out her hubby is cheating and when she gets ballsy enough... she handles things. It's terrific!! :) Baby oil, a leather belt, and a bathroom floor. *giggles* I'm telling you. I laughed for a LONG time. LOL
Ummm... I suppose that is all for now. OH! I got a new camera!!! Canon A590... YOW! I love it! Gift from Sharon and my hubby for Christmas! *preening* :) I honestly only wanted a camera and that was IT, so I am super happy to get this early. But, the only reason I got it early was - we are going to WWE Raw on Monday (the 15th) and I need to know how to use the camera before then! LOL Sounds good to me!
Hope everyone is doing well! XOXO