Still have not decided what I want to do.
But today was amazing. Even if it was Frank's day and not mine. The boys and I woke early and let Frank sleep. He's been ill, alot more ill than I suspect he's been letting on. I more or less forced him to go to a doc yesterday. The prompt care doc told him he likely has a sinus infection. Didn't order a chest xray like I thought she should. She did order him an antibiotic which few docs do casually these days. They make him sick to his stomach but I hope they knock out whatever infection he has. I remain wary. I am not sure what is wrong but he is most def not himself.
But today...I took the boys with me to the grocery store. We bought stuff for a good South Beach friendly breakfast casserole: eggs, lowfat Mexican cheese, spinach, mushrooms, bell peppers, picante sauce and added Frank's favorite big soft croissants and apple turnovers and orange juice. I let Quincy pick out a cheery daisy bouquet and I hurriedly picked out a card before both boys pulled the display case over. Wrapping paper makes a great soft club for hitting one's younger brother over the head with I learned. Really, they weren't too bad, except for Camden helpfully prechewing the bell pepper and Quincy nearly dumping the eggs.
We went home and Frank was just getting around. I made him a cup of coffee and the boys kept him company in bed while I mixed the breakfast casserole together and set the table. I quickly wrapped his gift and signed the card (only then noticing the card was addressed from a father TO his son for Father's Day. Whatever. Made the necessary adjustments with a sharpie) and had the boys carry in his card and flowers. He says he is quite happy with his gift: a refurbed kitchenaid stand mixer. We've been eyeing 'em for years and I was just waiting for an excuse to buy one. Appropriate enough since Frank does most of the cooking. (Me, I would've not liked a kitchen appliance so much as a gift but he's a different creature. Luckily;)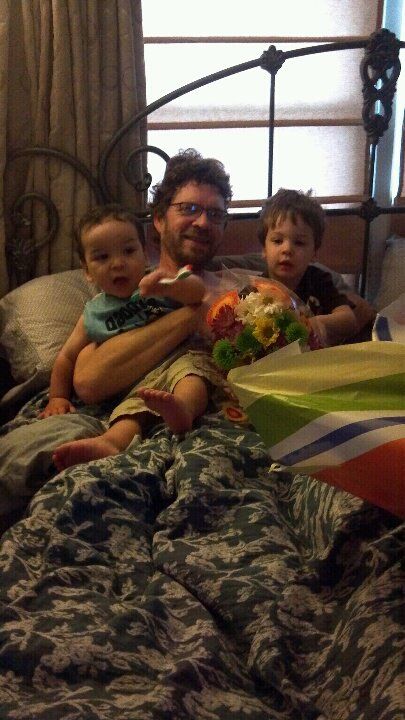 We spent the rest of the day quietly. The boys napped and Frank worked out in the garage. I brought him juice at one point just to make sure he hadn't passed out and hit his head. He thinks I am a bit weird that way. Then we filled the baby pool and put it in a shady spot in the garden. Cam had woken up and was anxious to play. We let him swim naked for awhile, chubby little cherub as he is. Then my anxieties kicked up and I found him a suit and a hat for his tender scar though it stayed on for only seconds.
Q woke up not much later. He splashed around for a little while but was less happy than Cam with the cool water. He refused to sit down at all and said it hurt his butt when he did!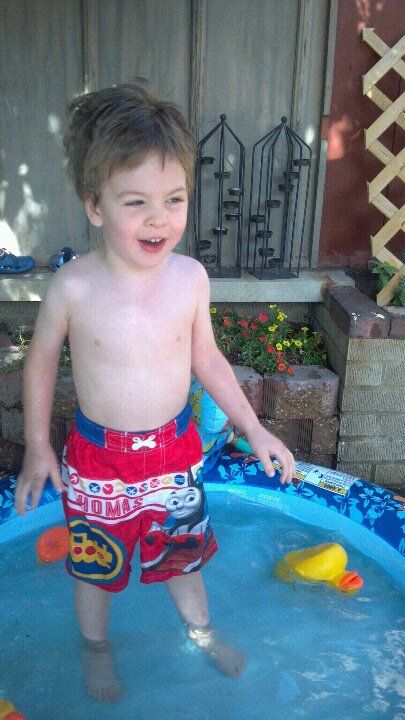 Still, was precious and sweet to see the boys enjoying such an summer-integral activity. We let them play for a couple of hours and then I went to the store and picked up stuff for dinner. Frank grilled the porkchops and I made potatoes, green beans and a salad. It wasn't a special meal by any stretch but we all enjoyed it anyway. Both boys ate heartily and Frank and I enjoyed an after-dinner glass of pinot noir.
These days seem languid and long but will be gone in the proverbial blink. I want to remember. I held Cam at dinner and breathed in the summer smell of him: sunblock, water, sweat, and little boy. Intoxicating!
Really, if it could all just be bottled...