There are many charities out there asking for help...if you have a few dollars to spare you may consider donating to Hope Village For Children...its a threaputic childrens home for abused kids in Meridian Mississippi. This is Sela Ward's foundation...They experienced damage from Katrina...extensive damage to one of the cottages from a fallen tree..to donate online go to:
Hope Village
On a personal note....a local homeless family has given me their dog to care for...she was covered in fleas and had a serious allergic reaction. I've treated her with benadryl, neosporin and advantix. I got word today that they found housing but aren't allowed pets. I told them she can stay with me until they are able to find a place that will allow them to have her. She is a seven year old maltese named Scarlett: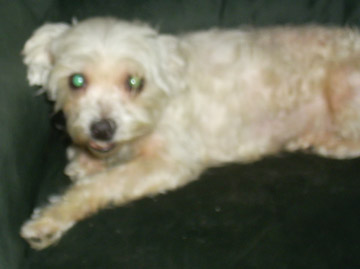 I haven't made a vet appointment for her yet due to the cost. If anyone would like to help with her medical care you may by contacting:
Dr.Tuckers office
Alliance Animal Hospital
1472 West State Street
Alliance, Ohio 44601
My account number is 275 (Ruthie)
330-823-7211
I realize the health of a dog doesn't compare to the suffering of the survivors of Katrina. But I can't control the timing of this situation. I'm not sure how long she will be with me..from the coversation today with her family it sounds like she will be here for several months. She will need her shots and dog tags soon.
She is a very sweet dog and I hope she can be reunited with her family..in the meantime they have asked if they can visit and of course I said yes. Hopefully, they won't be apart too long.
SurvivorsHope.Com

My goal in life...is to be the kind of person my pets think I am.