To begin this entry here are a few more of the photos from our visit to the Yorkshire Wildlife Park on 16th May



---
Beginning with a capybara - which is the world's largest living rodent. YWP has a pair of them - a male and a female but I'm not sure which one this is. They were in one of the walk-through enclosures so there's no zoom used to take this photo. I really was this close to the creature and it didn't mind in the slightest.
---
Next up is a zebra having a feed...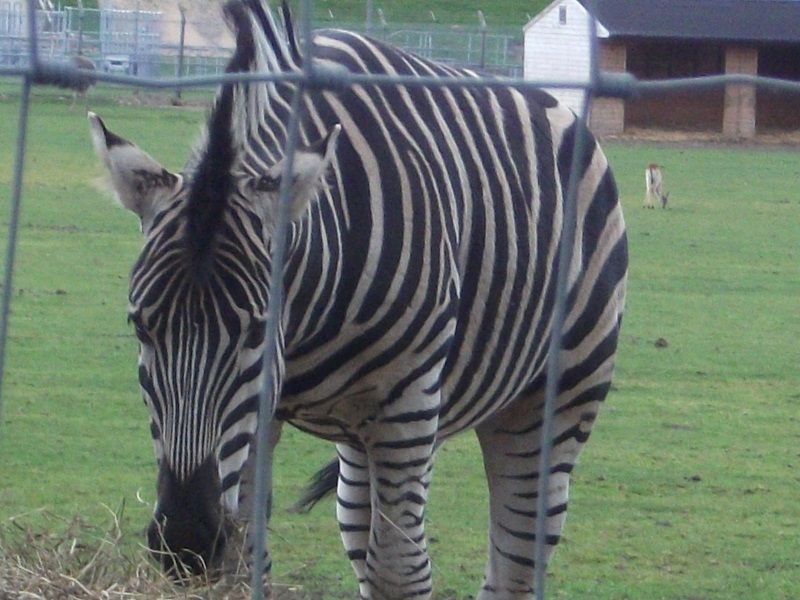 ---
Next up is one of the park's three Painted Hunting Dogs. Apparantly this is quite a rare creature - Hanna knows much more about them than I do. Indeed I'll confess to never even having heard of them before visiting YWP. Anyway, they were quite photogenic when they actually stood still. They were running around their enclosure much of the time we were watching them. Again, Hanna has better photos of them than I have but this is the best of mine.
---
This one of the lions is similar to one I posted a couple of entries back. Except the previous photo was taken (by Hanna - as was this) at the end of the lion's roaring sequence. This photo is right at the beginning when he first stood up. Magnificent though he is, both Hanna and I were rather taken by the wonderful expression on the face of the lioness as she watched him...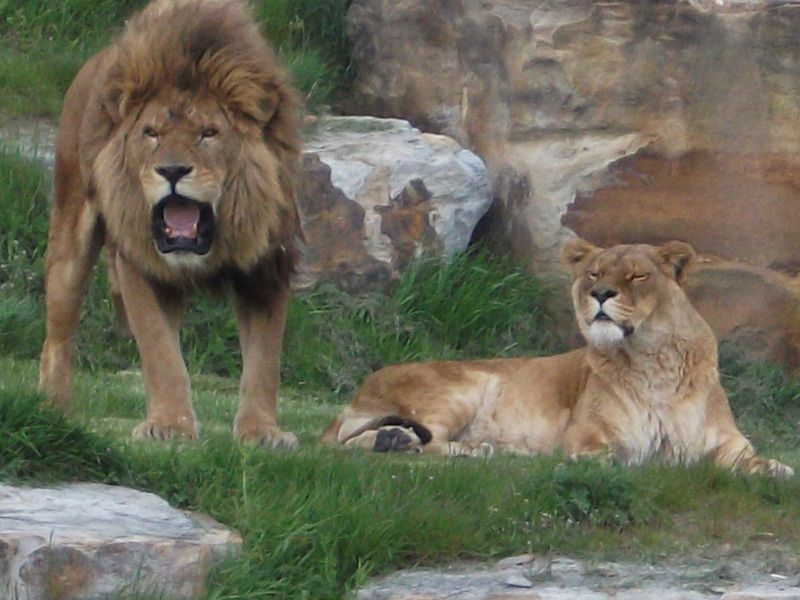 ---
There might be a few more YWP photos in future entries but for now, I'll press on with the chronological story of Hanna's visit to Lincoln.
So we now move on to Thursday 17th May. This was one of our rest days between day trips but we weren't completely idle. I took Hanna out for a late lunch at
handmade burger Co
by the Brayford Wharf. I hadn't actually decided where we'd go when we set out - other than I wanted to take Hanna somewhere nice. I'm not hugely experienced (to say the least) in taking people out for meals in my own city so it was partially guesswork. Anyway, it was a really nice meal. It's burgers, yes - but they're seriously classy burgers.
Here's a link to their website - which includes the menu and also a photo of the restaurant.
http://handmadeburger.co.uk/our-restaurants/find-a-restaurant/brayford-wharf/
Hanna and I sat indoors at a window table which must be about as far to the left of the photo as you can see. I had the Lamb & Mint Burger with sides of Chips and Coleslaw accompanied by Dandelion & Burdock. Hanna chose the Wellington Burger with sides of Chips and Gherkins. I can't remember what she chose to drink. Water and soft drink of some kind. Anyway, it was a really nice meal. The portions were huge though - I mean seriously big. I managed to get through mine but I'd been up about 6 hours at that point and it was my first meal of the day. As always it was so nice to just sit, and eat and chat with Hanna and watch the world go by. Eating out with good company - you can't beat it. You see, this is something that I've tended to miss out on in life what with my "stay at home" or "keep myself to myself" ways. I can blame some of that on my previous debt issues but certainly not all of it. Anyway, things will be changing - but I'm not sure how much I want to tell you about that just yet. There are things I'll be doing that I'm not really mentally adjusted to myself yet. That's another story.
They did give me a little loyalty card at the restaurant when I paid but I don't think I've still got it. I think I used it as a bookmark in one of Hanna's books that I was borrowing so I guess it's in there.
I didn't actually manage to get more than halfway through the book during Hanna's stay - but I have since downloaded it onto my kindle so I'll pick it up were I left off at some point.
Anyway, after the meal we made our way back home. Hanna had a bit of a nap and I probably pottered about on the computer while she was sleeping. Or maybe I did some ironing? Then we had a nice relaxing evening in watching various stuff on the computer. We got through the complete latest series of
Not Going Out
during Hanna's time here as well as several superhero movies and a few other bits and pieces off the internet.
Next time I'll write about our day out to Skegness. That entry will feature several videos of the seals and other creatures.