Sunday, a lot of the world saw a solar eclipse; in certain parts of the world, a "ring of fire" showed, as the moon crossed the sun's disc and lingered, creating a ring of fire in the sky. Here in northwestern Oregon, clouds covered the sky, and so I drove east of the Cascade Range and hoped to find a better view of the eclipse.
Ah, but it was not to be had. My destination was the Peter Skeen Ogden roadside park/rest area on the Crooked River Gorge in central Oregon. The park was named for one of the original "mountain men"; Ogden explored the Oregon territory for the Hudson Bay Company.
Crooked River Gorge posed a significant barrier to travel and settlement of this area, but in 1910, this railroad bridge was built: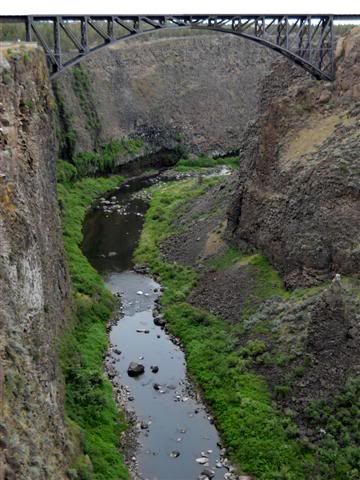 It is a 330 foot drop here; this bridge was built by men on ropes, hammering the rivets joining the bridge together.
***
One teaser picture; my friend's son got out of prison a few days ago and it's BBQ and movie night at my friend's house.
*****