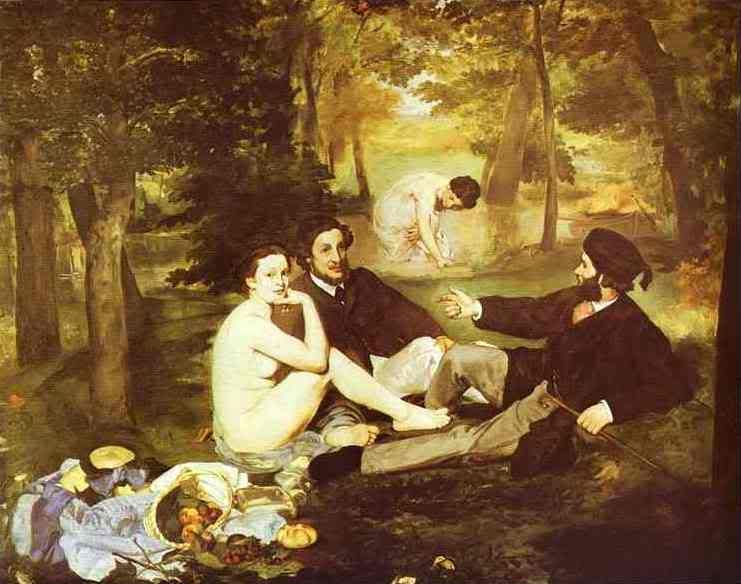 The Picnic by Edouard Manet
i vaguely remember sitting in a red ant hill at my grandparent's place in denver and getting the crap bitten out of me. i was maybe 4 or 5. that has to be one of my earliest memories of anything, really. i know some people that can remember back way further than that, but at the moment ... i'm drawing a blank for anything pre-4. funny how old photographs can force one into remembering stuff. perhaps our imaginations fill in the blanks with bits and pieces that never really happened. creating my own reality has become an artform for me.
once in awhile i'll get [p] notes from a diarist called bob. he'll max out his character limit 5 or 6 times over with 'ramblings' that turn into prose. i love when he writes like that ... becoming a friend to me. i wonder if i'll ever meet him in real life. his fuzzy head of hair and gentle demeanor and his happy outlook on life.
a few nights ago i had a dream about a girl that used to sit next to me in high school band. she played the E-flat clarinet, while i played the B-flat. she was two years older than me and quite attractive, although, most females seemed to be attractive to me then. i really dug her, but you know how it is ... 2 years older in high school is a chasm. she had a cute nose that was turned up slightly ... blonde hair. she reminded me alot of elizabeth montgomery; samantha, from bewitched. well ... a 17 year-old version of her, you understand. i don't really know of any modern-day actors who resemble her.
her last name was stalker but the name didn't fit her in the least. she married right out of high school but then things soured in her life. her husband worked for the power and light company and was electrocuted and was killed. i remember sitting in a study hall on a spring afternoon and hearing the announcement.
so meanders life, you know?
the teachers are back tomorrow and friday for in-service and then nothing happens next monday ... which is odd, to my way of thinking, and then the kids are back full-force on tuesday, september 1. i often tell jake that he needs to keep in mind that work needs to be regarded as a marathon and not a sprint. particularly with him ... he's got, God willing, many years ahead.
"Life is a dirty trick ... a short journey from nothingness to nothingness." ernest hemingway. and now with that thought ... grab a shotgun and go out and shoot something.
cultivating my mojo
august 26, 2009 4:56 p.m. cdt