PART ONE: You and Your Life
1. Were any other names considered for you at birth? yea..Shannon
2. What was the day, date and time for your birth?Thurday Jan 5th 1989
3. So how old will you be this year? 16
4. Where do you dwell? Sin City
5. What is your astrological sign? Cappie
6. Do you check your horoscopes regularly, and do you believe in them? sometimes I'll read it...but think they aren't real
7. What are your typical [starsign] qualities? um..I am strong willed and like thats just so so...
8. Who are you compatible with? no idea
9. What kind of house do you live in? One with a roof lol
10. What's the name of your street/close/road? Not saying sorry
11. Who do you live with? My mum and Dog Hermione
12. What rooms are in your house? 2 bedrooms, one office, 2 bathrooms, a living room, a dining room, a kitchen...umm...some walk in closets...laundry room
13. Where is your room? to the right of the house in the backish
14. How is it decorated? Lots of England stuff and very clean
15. Did you decorate it yourself? yes ma'am
16. What kind of furniture do you have? Pretty bed afew woods and a blue chair
17. Did you set out to decorate it with a certain look? Yeah in a London flair
18. Do you have posters on the walls? yea Matchbox20 the O.C. and Matt dusk plus some on london all in big frames
19. What is your calendar this year [if you have one?] To make the cheerleading team read HP6 and see HP4
20. Are your parents still together? No my dad died
21. So what kind of person are you, in the good ways? Very sweet and nice and super poshie I am very gurly
22. And in the bad ways? I don't listen to my friends when they try to make me see that I did something wrong
23. In what ways do you annoy people? I don't
24. What are your strengths? speaking the truth, being independent
25. What are your weaknesses? BOYS...LoL.
26. Are you easily depressed? no
27. What makes you depressed? umm...when I feel lonely or misunderstood
28. Are you easily paranoid? No
29. What is your current mood? Bluh
30. Who are your close friends? Warren,Michael,Christinna,Angie,Lynn,fleur and Deryn
31. Who are your favourite friends to talk with when you are upset? Warren and Deryn
32. Who do you share most in common with? Lynn and Warren
33. Do you have a journal/diary? yeah OD irl Mermy
PART TWO: Appearances
1. Insert a picture of yourself here: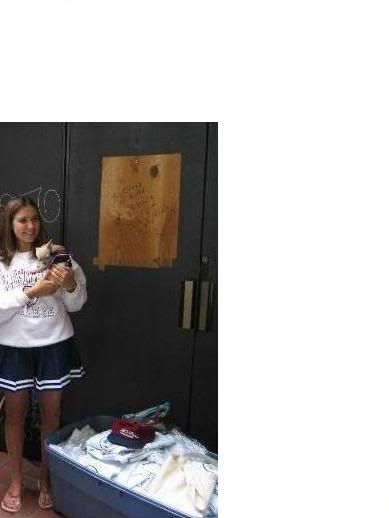 2. How important is the way you look to you? um...important sometimes, but other times I really could care less...
3. How self-conscious are you when it comes to your appearance? um.... I don't like looking tackie...
4. How tall/short are you? i'm 5'3"
5. What colour hair do you have? brown
6. Is it dyed? Yea
7. If so, what is your natural hair colour? a little bit lighter brown (I THINK)
8. How long is it? Middle of my upperback
9. Are you growing it? Not really
10. What would you call your body shape? Slim
11. Are you happy with it? not really
12. What colour eyes do you have? Hazel green
13. How do you dress, and why? i dress comfortably on weekdays...and cute and preppy on weekends
14. How long ago did you start dressing this way? i always have
15. Do your friends dress similarly to you? yea
16. How is the way you dress reflective of your personality? um...I am a cheerleader and poshie so it soo go's with who I am..
17. What parts of your appearance do people compliment? My faced I am very cute
18. What parts of your appearance do people insult? They don't
PART THREE: Hobbies
1. What do you do for a living? go to school...and do cheerleading and shop lol
2. Are you happy with what you do? yeah
3. What are your hobbies: Cheerleading,OD,talking on my cell,Harry Potter and hanging with my friends normal things a 16 year old does
5. Name everything you hate: Fish and people who kill little kids and dogs or cats.
6. What kind of people do you love: honest people...people who are fun
7. What kind of people do you hate: People who pose
PART FOUR: Love and Relationships, etc.
1. Seeing anybody right now? nope
2. The obvious question: Straight/bi/gay: straight
3. Do you have crushes: yes
4. If so, do you like them for their personality, or for their appearance? I'd be lying if I said looks weren't important...but personality is what keeps me
5. Celebrity crushes: Johnny Deep,Hugh Grant,Rob Thomas,Brandon Flowers theres loads!!!
6. Ever been in love? yeah
7. Are you now? Yeah
8. How confident are you when it comes to relationships? Not I am 0/2 right now
9. Do you know of anybody who likes you? Yeah
10. What would be most important to you in a relationship? trust and fun
11. Your ideal guy/girl, personality: trusting, funny, happy, caring
12. Your ideal guy/girl, appearance: straight and white teeth, a nice smile, nice eyes
13. What's more important to you, appearance or personality? personality
14. What are your turn ons: Smile and teeth
15. Turn offs: if there to ripped
16. Fetishes: hehe...not gonna go there
17. Fantasies: School,top of a building and a hot tub
18. How dirty-minded are you? ummm...I'd say...definitely pretty dirty-minded, especially once I get very comfortable
19. What would you rule out in relationships: Umm I duno know
20. What kind of things would you like to share in common? ethics, definitely...and goals in life
21. Does any particular dress sense turn you on? mmm nice jeans..not super baggie and clean cut..
22. Do you remember your first boyfriend/girlfriend? um vaguely I try to forget the rat and I don't count him,but b/f #2 I still love and miss
23. The most romantic songs you can think of? Time to say good~by *Andre*
24. The sexiest bands? The Killers,Match box20,Green day,Simple Plan and Oasis
25. The sexiest singing? Rob Thomas,Brandon Flowers,Matt Dusk