Temp: 3F
Wind: SW light
Sky: Sunny
It was -17F when I got up at 7 this morning, so saved my walk until the afternoon, now that it has warmed up.
I've been cooking most of the day, meals to freeze for another day. I only buy meat at what I consider a fair price, and since I get to the store early, there is usually a lot of 'manager special' to chose from. Today I cooked a whole chicken, browned turkey sausage, made up two meatloaves (because I like a ketchup/brown sugar topping and honey prefers mushroom gravy), poached and shredded chicken thighs, and put together an Italian sausage mushroom soup.
This sunflower looked spectacular in August.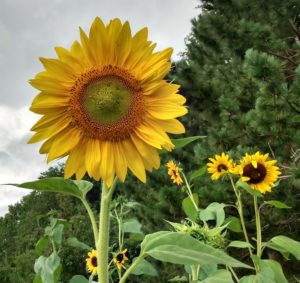 Even in winter it is pretty in a different way.
I don't have much time left until I have to decide whether to renew my OD membership or not. I'm leaning towards not. This was my first venture into social media, I don't FB or Insta or TikTok or Tweet. But it seems the last several months there are a lot of individuals showing up who have been kicked off other sites and are here to spread the gospel that got them kicked off those other sites. If I wanted to see that nonsense, I can get it for free elsewhere, I don't want to pay for it. In my quest to find peace, their posts are the antithesis of peace.