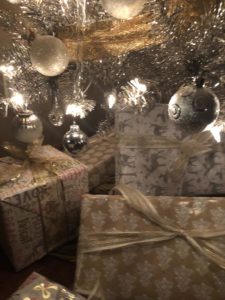 I woke up at 4:00 this morning and stayed in bed until Clancy made me get up and feed him. He was absolutely staving to death… he bangs out cabinet doors and room door so…. I didn't want him to wake up mark.
he is on vacation all week so I want him to sleep in if possible. Lucky him he gets 12 weeks of vacation.
I love waking up when it is dark outside and turning  on all my Christmas lights ! I feel just like a kid again!
I have all but one gift left to buy! It is something for my sister! I will continue to buy little 20 dollar gifts for the kids but I could stop lol
i have a special tree for Jo! And several gifts for her…. I am the only one that will buy her gifts so I want it to be special