pool opening this weekend!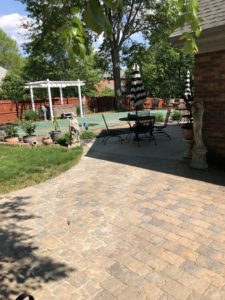 This is one of my favorite days of the year… pool opening day! Ours opens this Saturday. The yard still looks bleak BUT it is starting to look ready for the I do BBQ!
I got up way before the chickens today… 2:30. I just could not sleep so I got up made coffee and put my Boston Butt on.  I headed to the gym at 6:00 trying to beat the rains. I finished my workout and got a massage and went home to doing my normal bike routine. I made it home just as the first rain drops fell. I felt accomplished LOL
I painted my blue fish… black today. They sit at the edge of my pool. I think they will look good as most of my back yard is done in classic black and white or cream.
Our mattress comes friday so lets hope I picked one I like. BUT truth be told our old one is srftarting to feel hard so I think I will like the change.
Jo seems to be positive and much happier. She is still drinking as I can tell in in her voice and how she words things… she always tells me she loves me when she is drunk LOL