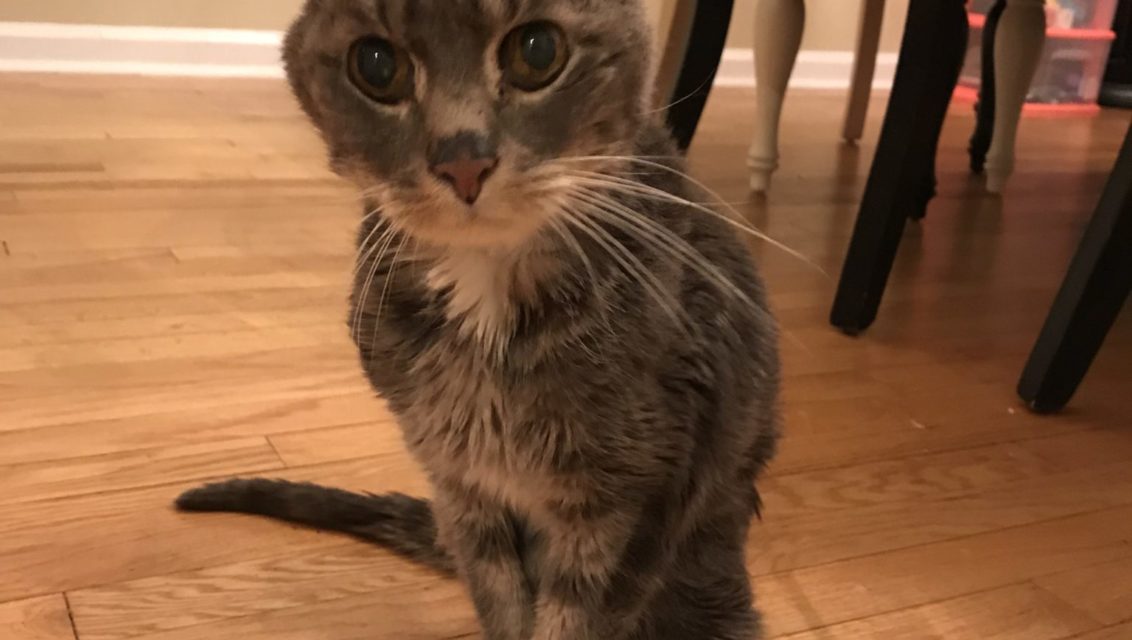 This is Kooshie (literally just took this photo). My wife adopted him and his brother Gizmo as kittens while she was in college in 2000. In the summer, he will be 18.
Kooshie has had a rough few months. He is on pills to help prevent him from throwing up, 150 milliliters of fluid injected under his skin daily (by yours truly), a diaper to protect our furniture from his behavioral issues of spraying (him and his brother both have spraying issues — and diapers — and are fixed… apparently it is an issue with about 10% of cats), and a maple-tasting medication mixed in with wet food to help with constipation.
A week or so ago, my wife was convinced Kooshie was close to death. He was down to five-and-a-half pounds, wasn't cleaning himself, and disheveled. He also perpetually had wet food stuck to his nose. She thought this was the end and he should be euthanized while he still had some of his dignity. We had a vet come over to inspect him and she said it might be time. We scheduled a house call with her for Thursday, June 18th. This was on Wednesday the 10th.
I find Kooshie and his brother, Gizmo, to be pains in my ass. Mostly with the spraying. The diapers helped with that, but then they would just sit on something (like a blanket) and that would smell like cat piss. Basically, everything in my house is covered in blankets and we do a ton of laundry.
It was odd having scheduled Kooshie's death. It didn't feel right. My wife loves this cat more than most things. Probably definitely more than me. As the day loomed closer, I paid more attention to him. He didn't seem uncomfortable or near death to me. Sure, he was super skinny and a little less sure-footed. But he still laid out in the sunshine most of the day. He still wanted food and ate his fill. He still wandered around the house. I didn't think we should put him down. I didn't want the regret and I didn't want my wife to feel regret. I felt I needed to say something to her. So I did…
She got angry. Very angry. She needed me to support her and not cast doubt. This was one of the hardest things she had to do and me speaking up made it worse.
Kooshie's last week we stopped giving him the fluid injection. We stopped having him wear a diaper (and hoped for the best). We still gave him some meds for the puking, but that was about it. The day before he was going to be euthanized, my wife weighed him. He was six-and-a-half pounds. Since taking off the diaper, he cleaned himself a bit more and didn't smell. He acted feisty with her. She called the vet and canceled.
So Kooshie is still with us. We have an urn that is in a box. I have a little Willow Tree statue of a girl and a cat that I ordered for my wife that I was planning on giving her. We bought and read a book to Emily called Death is Stupid so we could explain things to her when it happened.
I don't know how much longer he will be with us, but I think we will know the right time. This wasn't the right time. I knew it wasn't. I had to speak up. I'm glad I did and though my wife was mad at me, I think she's glad I did too.