If you previously had a diary on Open Diary that you would like to re-activate, please do not start a new diary – go to: Reclaiming an existing diary.
Starting a new account on Open Diary is easy! To get started, just click the Start New Diary button on the home page:
This will take you to a registration page – on this page, there are three required pieces of information you must enter:
Username – this will be the name displayed on your diary, that other members will see. You can use any combination of characters or words, but use something that is meaningful to you!
Email address – you must have a valid email address to start a new Open Diary. During registration, you will have to validate this email.
Password – enter (and re-enter to confirm) a strong password. Be sure to use something that is more than eight characters long, and has a combination of letters, numbers, and special characters like ! or %.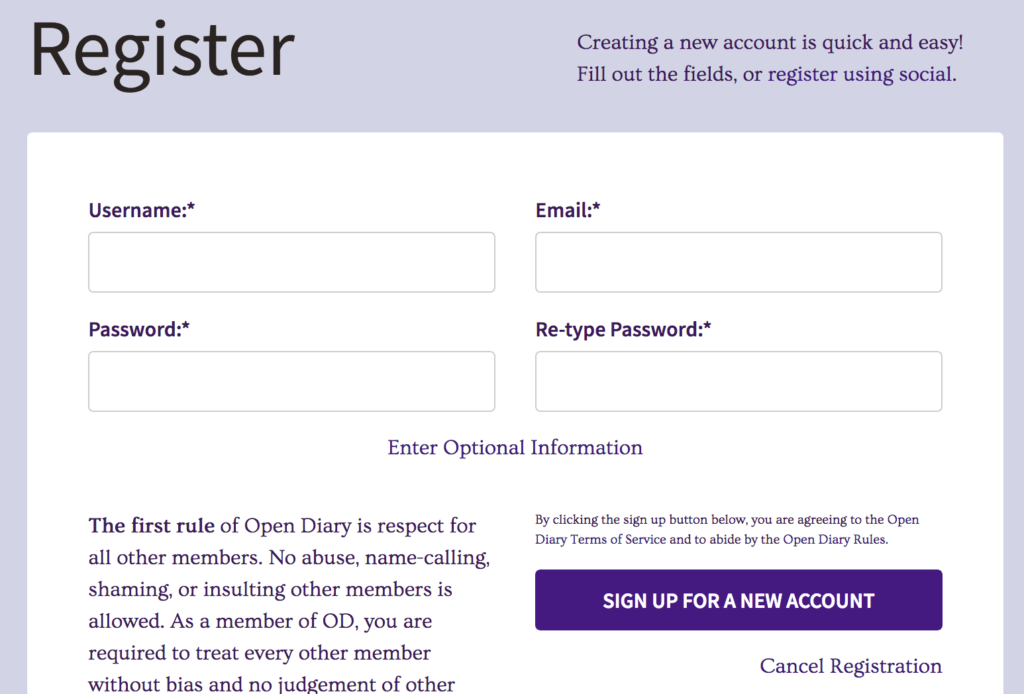 By joining Open Diary, you are agreeing to abide by the Open Diary Rule.
Once you have completed the above information, click the "Sign Up For a New Account" button.
You will receive an email confirmation message at the email address you entered above – you must click the link in that email to confirm your email address. Once you have done that, your new diary is ready to use.