I have some dead time while I wait to leave for rehearsal, which is at a late 7:45. My week, so far, hasn't been bad. I had a photo shoot with a new model, a 32-year-old German native. She's obviously done a bit a modeling.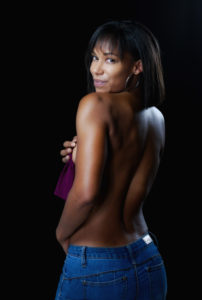 Yeah, I'm probably pushing community standards here, but I am really pleased with these. I have many more.  I shot a lot of photos and was very successful in keeping the editing to a minimum by being really careful with the setup. I really like the low-key lighting — I had modified what I usually do. She has a very toned body and aside from smoothing out some stretch marks — she's had two kids — just a touch of "airbrushing," though that's not what it is. One of her children is 18…you do the math. That's a story I didn't ask about.
The rehearsals are going fairly well, though my dancing hasn't improved that much. Again, my heart just isn't that into it, but I'm trying.  Work hasn't been too difficult this week and I told the boss that I just couldn't cover a store this week that I've been covering in the past. The drive is just too much. It's way out of my way.
I haven't been successful, yet, in finding a model for this Sunday or Monday, but I've been busy working on it.
The cat's room has fleas again. It was free of them for a long time. Now, I need to fog the room and get the cat a pill. I forgot to submit my mileage for the second of the month last month and will be getting a fairly large check on the 15th, but that's two workweeks away.