Fuck the fucking FUCKS! *full rant edit*
Union Terrace Gardens. A little piece of tranquillity and greenery in the middle of Aberdeen. Right in the middle of the city centre.
It's sunken down from the main roads. This has the impact that, despite being right beside one of the busiest roads in the city centre, you can't actually hear the noise of the traffic that much. It's serene, a good place to unwind a bit.
The flower displays were stunning. They had the traditional flower clock, planted in such a way that different flowers bloomed at different times of the year so, rather than being colourful for part of the year it was constantly changing. Right beside that was this: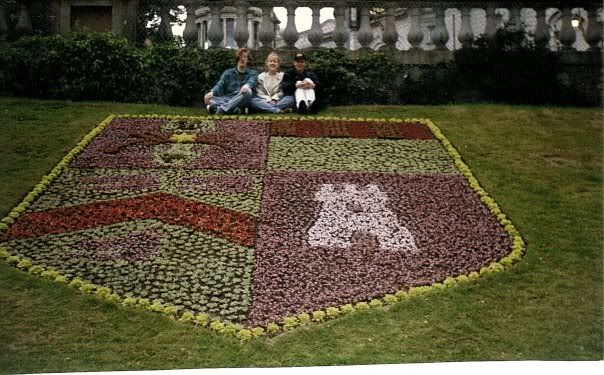 The Aberdeen crest. Planted in much the same way.
The toilets were Victorian and, while I can't speak for the ladies, the gents were truly a thing of beauty (as much as that can be said for public toilets, anyway). They used to have huge checker boards on the ground in the gardens. I remember seeing on more than one occasion people playing draughts during the summer, on the rare days that the weather was good enough.
I've been to gigs there. I've been to fun days there. I love the place.
Sadly, it's a bit run down nowadays. Everyone agrees that something needed to be done to encourage people to return to the gardens. But, as this picture I took in December proves, it's still gorgeous, even under thick snow:
Now, someone did have a plan for them. The Peacock Visual Arts Centre is also in need of help. They need a new base as their current one (or actually two, either side of a lane) will be unsuitable for the purpose in the next two years. So, they hired an architect, drew up plans that would help them and UTG and came up with the Northern Lights Centre for Contemporary Arts. This would blend in with the gardens as they are just now and solve all the problems (real or perceived) that they have just now. It would cost £13 million and 75% of the funding had been sourced. They had planning permission and were all set to break ground on the scheme.
Enter Sir Ian Wood (feel free to boo now).
He is the second highest Scot on the Sunday Times rich list, having made his money in oil. And he's proud of his home city of Aberdeen. So much so, he donated £50 million of his wealth to the city for them to renovate part of Aberdeen. The city could use the money for anything they want, no strings.
No, sorry, what the fuck am I saying? Course there is fucking strings attached. There are always strings attached. Anyone who genuinely believed me when I made the no strings comment, get in touch. I have a loch for sale. Apparently, it even has it's own monster.
The catch was this: the money could only be used to raise Union Terrace Gardens to street level, giving us a city square bigger than Red Square in Moscow. What the fuck does Aberdeen need a city square bigger than Moscow for? But that's his vision and he started to try and sell it to the public.
Then the flaws became obvious. For a start, the city has to match Sir Ian's donation pound for pound. So, we have a plan that would cost the city next to nothing or a plan that would cost at least £50 million.
Why at least? You honestly think that raising a sunken garden to street level and creating a space that big will cost a mere £100 million? Again, I've got a loch… Try £140 million. Minimum. Some estimates have it up to £300 million. Of which, there have been donations totalling £55 million to date. (Let's not forget, the bulk of that has to be matched by the council or the deal is off.)
I'd love to show you a picture of the plans, but I can't. They have pictures of what it might look like, but nothing concrete (and, given the amount of that that will be used, the pun is completely intentional). It's going to go to an international design competition. Where the prize may actually be less than the cost of designing and submitting something.
We were also told that it's to secure the economic future of the city. And this is something that is much needed. As I sit here in Boro, watching the decline of the steel industry, I've often commented to friends that if Aberdeen doesn't pull it's finger out and do something now, it'll go the same way when the oil runs out, which is very, very likely to be in my lifetime.
Now, this economic boost will apparently come in two ways. The first is that by virtue of having the square itself businesses will flock to invest in Aberdeen. Which businesses? Fucked if I know. Fucked if anyone actually knows. They haven't said, simply because they cannot say. They're making huge, huge assumptions based on complete and utter fucking guesswork. I have yet to hear of a single business saying that the lack of this city square is keeping them out the city.
The other way is through the square it's own self. How? Again, fucked if anyone actually knows. Remember, there's no fucking plan for how it's actually going to look so how do they know what it'll contain? We do know this:
It may or may not contain a shopping centre. Cos that area of Aberdeen desperately needs one with only five within a 10 minute walk.
It may or may not contain a multi story car park. Cos, again, the five that are within a 10 minute walk are simply not enough! (Admittedly, they are talking about closing the nearest one down if that happens. But fuck knows what they'll do with it, they can't demolish it as there's a health centre on top.)
It may or may not include an area for outdoor concerts. Y'know, like the Peacock plans would also have.
It may or may not include plenty of green space. Y'know, like the Peacock plans would have.
It may or may not include a contemporary arts centre. Y'know like… Fuck it, you know the drill by now. (Incidentally, they were hoping that this would be a source for funding, transferring the money donated for the Peacock scheme over to the city square project. Until the funding body announced rather publicly that that would only happen if it included the current Peacock design. Which it wouldn't [the two are seen as mutually incompatible].)
It may or may not include a family area. Y'know… Actually, I'm fucking sick of typing this. You know what I was going to say.
It would increase access to Union Terr… Actually, it wouldn't. You can't increase access to something that's no longer fucking there you ignorant fucking cunts!
It may or may not include an art gallery (different to the contemporary one). Yeah, I can see the council being very fucking amused at that being less than a 5 minute walk from the existing one.
It may or may not contain a railwaystation. [sarcasm]Cos it's so fucking hard to get from Aberdeen rail station to the city centre![/sarcasm]
It may or may not contain street café's. Which is a great idea in a city where you can literally have four seasons in one day and where people are only semi joking when they say you know it's a bank holiday because the snow melts before it hits the ground.
The only thing they can guarantee is that it'll contain concrete. Lots and lots and lots of concrete. It has to. And, of course, this'll have an impact on the environment. Not to mention the part UTC played in keeping the pollution in the city centre down. And the destruction of around 80 perfectly healthy mature trees.
Network rail are dubious. Part of the plan would cover the railway tracks and they have had no assurances that this part would be removable for maintenance/upgrade work. (Course, they have no such assurance. There are no set plans at the moment.)
A public consultation was held with Sir Ian saying he would pull out if the public didn't back his plan. The consultation didn't include the Peacock plans as, seeing as they already had the planning permission, it was deemed to be unfair. The results of the consultation would suggest why. Out of the people who took part, 55% were against the city square proposal with 44% in favour. The top three things that people wanted to see were formal gardens, a contemporary arts centre and a cultural centre for visual and performing arts. Number four was a meeting place. All of which were included in the Peacock design.
So, it seems simple. The public had spoken and Sir Ian would slink away with his tail between his legs. Or possibly donate his money to something else that needs it.
Again, if you believe that then, in addition to the loch, I'll sell you a bridge. Blue coloured, only working bridge of it's type, you may have seen it on Auf Wiedersein, Pet.
He suddenly decided that it was no longer up to the public and that the council should have the last say. Now, the people who elected the councillors have said they were against it. So, the vote was yesterday. The result?
The fucking useless bunch of complete and utter tosspot twattish wankers voted 20 – 7 in Sir Ian's favour. 12 decided to abstain. 3 of those had to due to a conflict of interests but the other 9 are complete cowardly cunts.
Well done. Seriously, well done. *slow hand clap* You've voted to destroy a beautiful and serene piece of Aberdeen heritage, costing people their businesses (as the buildings will have to be compulsorily purchased) and bury it under concrete to satisfy the small minded ego driven insanity of a cunt who claims to love his city but decided to prove that he does by destroying part of it.
Congratulations you bunch of complete and utter cuntbags. Hope you enjoy your positions cos I really can't see you being in place much longer.
Sir Ian? Want to improve Aberdeen? Invest in Duthie Park, which needs it. Create your 'much needed' city square where James Dunn house is when the council have moved out of their monstrosity of a current home. Buy the Dons. A strong football team is always good for the local economy and for attracting business to the area.
Or stick with your current plan. If that's the option you choose then I gladly invite you to go fuck yourself up the arse with a heroin filled dildo made from rusty needles and nails.
Will