Last weekend was phone upgrade time. I went with the Google Pixel 7a. Mostly because the camera is supposed to be one of the best and I wanted one with a decent camera. It's a bit of an adjustment, but overall, it's a decent phone.
Monday I went through to Newcastle to see Grace Petrie: Butch Ado About Nothing. It's the stand up comedy show she did at the Edinburgh Fringe last year. The first part of the show was her talking about the show itself and she sang a couple of songs. The second part was the show itself. It was funny and touching and poignant. Pics:
Had a bit of a panic at the hotel. It's where I usually stay when I'm in Newcastle for a gig. They always take a deposit for the room, which is always returned the day I check out. Normally, it's £25, but they've just put it up to £50.  Which I didn't have.  But, because they put it up the week before my stay and I had booked in May, they let me off with the £25.
Friday, I went through to Sunderland for the England v Scotland women's football match.  It's not often I get to see a Scotland game live and the tickets were cheap (seriously the ticket was less than the train fare) so I thought, why not?  Scotland lost, though it was a narrow game.  Pics: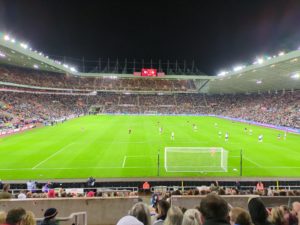 I must admit, I left the game early just to make absolutely sure I got to the train station on time.  Only to find the train was delayed.  It eventually arrived about 50 minutes late and got a cheer when it arrived.
Next Saturday, I have an assessment centre for a job with Cleveland Police, working in the contact centre.
One last pic:
Will