Take your time, hurry up, choice is yours, don't be late
Friday was the 30th anniversary of the release of one of my all time favourite albums, Nevermind by Nirvana.  I remember when I first heard Smells Like Teen Spirit.  I was a rock fan but, of course, it was all hair rock or classic rock, with some punk in there as well.  Then I heard this song that was very definitely was not that.  It blew me away and I was an instant fan.
I still listen to Nevermind beginning to end at least once a year and it still blows me away with the sheer energy in it.
On Friday, BBC 6 Music has nothing but music from 1991 with every track from Nevermind throughout the day.  It was a nice nostalgia trip with a few surprises.  I honestly didn't realise that Enter Sandman was from 1991, I thought it was older than that.  Speaking of, it did amuse me when I got the triple bill of Enter Sandman, Head Like a Hole and Lithium at 10:30 in the morning.
I did take a break from the music for half an hour to watch the US Open homecoming with all our winners, each with a remarkable achievement.  Joe Salisbury, the first British male to win both the men's and mixed doubles at the same Grand Slam ever.  Gordon Reid and Alfie Hewitt becoming the first wheelchair doubles team to win a calendar year Grand Slam (in what could be Alfie Hewitts last year as a player, not through choice).
And, of course, Emma Raducanu.  Guaranteed Sports Personality of the Year.  If getting to the second round of Wimbledon as a wildcard before having to retire, she won the US Open as a qualifier (first player ever to do that), without dropping a single set, without being taken to a tie break and with only one player winning more than four sets against her.  Any player who had achieved everything without the qualifier bit would have been impressive.  Raducanu went far beyond that.
I watched the final live.  Both players were exceptional and this could well be a rivalry for the ages.  I can't wait.
I may have already bought my ticket for Slam Punk next year.  I may also have booked the hotel when the dates were originally announced.  I may also have bought a ticket for Beans on Toast live in March.
At the moment, I have at least one live gig, or event involving live music, every month bar 2 from now to June next year.
Yeah…
I like live music, what can I say?
I'm actually going to a gig tomorrow, the Manic Street Preachers.  I haven't seen them live since 1998.  Wednesday, I'm going to see Nick Cave and Warren Ellis.  I'm also going to see The Green Knight tomorrow.
Middlesbrough Art Weekender is next weekend.  Here's some art they put on the town hall: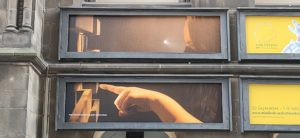 Here's pics I took during my visit from hell from the parentals:
And here's the video for Come As You Are, my favourite song from Nevermind and the source of my entry title:
Will