I am now a member of OD and I am still trying to learn how to use this, SO please bear with me. SO I am so excited to be a member finally and now I can add pictures, and enjoy OD again.  I used to be on here years ago   before it went down and I can't remember what my profile name was I think it was Wranglingirl and I have been trying to get my OLD entries back but I don't remember any info on it. SAD!! 
BUT I am here and this will be a great fresh year for me. I hope to find my self here more often and keep all my notes and entries on my laptop too. 
SO about FISHING, 
I so love fishing, my boyfriend Boyd and I had met back in July and we have gone fishing many times and then winter came around and I am really itching to go fishing. SO he came into Casper bringing all my fishing supplies and we plan to go this weekend. IT will warm up a little but still be COLD and its a perfect time to go fishing. 
Casper has a river called North Plate River, WE plan to give it some chances to go this weekend. I am so looking forwards to just practicing, to be ready for Spring fishing at the Miracle Mile. Have you all ever heard of Miracle Mile in Wyoming?? 
The Miracle Mile stretch of the North Platte River is a well-known trout fishery, with a deserved reputation as a productive big-trout destination. Miracle Mile Fishing: What You'll Catch. Rainbows, browns and Snake River cutthroat along with suckers, carp and walleye call the …
 It is the best place to enjoy fishing, and it can get very crowded at times, So got to pick a good time go. I am looking forwards to catching some fish as my favorite is the Walleyes. 
Well I just wanted to try this, SO bear with me trying to figures out to enter pictures on here.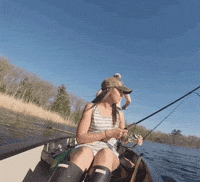 Well that was a good start. 
Enjoy your day.