Rewind In Time Part II ***With Pictures***
If you didn't get a chance, I started a picture entry attempting to update everyone from 2013.  Continuing on with my picture entry…
So this past summer we went to Greece for a couple weeks.  We stayed in Athens, Porto Heli, and Zakynthos.  All of these places I met up with or saw family.  Zakynthos was the only location where I didn't see native family, I hung out with the family that I grew up with in Massachusetts.  Shipwreck Beach in Zakynthos has been on my bucket list, so I was super excited to see it.  Next time I go to Greece, I will definitely be going to Santorini.  That is also on my bucket list, but I decided I may go on this trip when my kid(s) are able to walk on their own.
Anyway, here are some pictures of our trip…  First super long plane ride for this lovey.  How cute is he???
Once we got to Greece we spent a couple of days in Athens visiting relatives and friends.
Taken out on our balcony.
At our apartment in Athens with Stone's little friend, and my aunt and cousin.
One night yiayia watched Stone and we went walking around in Plaka.
Next we went to my summer house in Porto Heli.  We got a lot of beach time and got to visit with some family there as well.  This is where we were married back in 2013.  We visited the chapel and took some pictures.
Here is my house below and above the hill.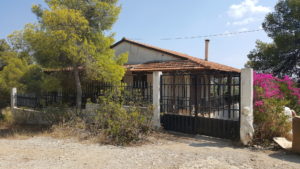 Some beach fun.
My cousin at her house.  Also, her son makes different fixtures, so I took a few pictures of some of the things he's made.
The chapel in town and the  place we got married.  Here we are going "up the aisle" (stairs)
The little chapel…  Oh how I love this little place!!!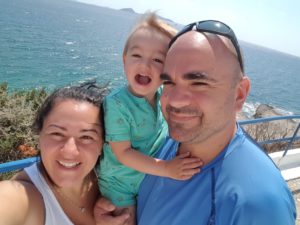 On the other side of the chapel is a flagpole and we had a similar picture taken the day we were married.  We just added a little man.  I need to find that picture to show a side by side…
Here we go…
From there we flew to Zakynthos.  We were very lucky because 1) we had an awesome airbnb and 2) a large portion of the island was on fire the week before.  Thankfully, our house was not affected and everything was safe once we got there.  We met up with my Massachusetts family.  We all rented a house.  The three houses were on one lot that shared a pool.  It was very cute and cozy and pleasant.
Just down the street were several taverns that we ate at each day/night.
Shipwreck Beach!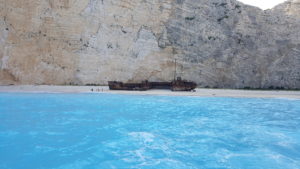 The whole gang (as in the younger adults)
And the Blue Caves
Shipwreck from on top of the mountain
Back on the boat
Back at our house
At the tavern for Marina's birthday dinner.
That pretty much sums up my summer.  Since the trip, we enjoyed the rest of what was left of summer.  Went to a couple parades, etc.  Then work, work, work until Christmas break.  Today we are having a winter storm and are expecting to get about 12 inches.  Not horrible, but enough to make it a fun work from home kind of day.  I will need to come back and post some pictures of the holiday break.
TTFN!