Election round up. Kinda.
So, we have the results through. Some things…
Middlesbrough has once again returned Sir Stuart Bell as MP, for the seventh time. This is a guy that only comes to Middlesbrough when there's a photo op in it for him and hasn't held a surgery for 15 years. Just goes to prove that my friend is right. You could stick a labour rosette on a cheese sandwich in Boro and it'd get elected. Thankfully, he was returned with a smaller majority than last time (in fact, the majority of voters didn't vote for him).
The green party has their first ever MP with party leader Caroline Lucas winning Brighton Pavilion. This is in addition to their MSP's and MEP's (not sure if they are represented in the Welsh or Irish assemblies). Congratulations to them, here's hoping they can move on from this.
Nigel Farage, former leader of UKIP, hit the headlines on election day, but for all the wrong reasons when the plane he was in, carrying a vote UKIP banner, crashed. I could joke that it summed up the guy's campaign (he broke protocol by standing against the speaker of the house) or the UKIP campaign as a whole but in all seriousness I hope he gets better soon.
There was chaos at some of the polling stations as people were turned away at 10pm without having voted. Some polling stations let people who were inside vote after this time, others didn't. There was talks of sit in's, police being called, all sorts. One of the areas involved was Nick Cleggs constituancy and he actually took the time to go speak to them. Couple of things here:
First of all, it's obvious that the rules need some clarification and I understand that the Electoral Commission are planning a full investigation. It seems that if you were inside the station and had your voting paper you should have been able to vote.
In Sheffield it was blamed on students turning up to vote without polling cards, causing delays. What delays? I didn't have my polling card (never got one) and it took, at best, an extra minute while they looked me up by my address. This smacks, to me, of stretching for an excuse.
The most shocking one for me was the polling station that ran out of voting papers. How is that possible? You have a list of every one registered to vote at your polling station, bring one voting paper per person and a few extra in case there is a spoiled paper. How hard is it to work that out?
But the voters themselves aren't entirely blameless. The stations were open from 7am – 10pm. That's FIFTEEN HOURS people. Are these folk honestly expecting us to believe that they have jobs where they work 7am – 9:30pm, with no breaks and their bosses wouldn't let them leave to vote, necessitating voting at the last minute? If you believe them I have a nice pond in Scotland to sell you, complete with it's own monster. One person on the news went to vote, and turned away because of the queue, at 6pm, 7pm, 8pm before deciding they had to stay at 9:15pm. You were there before! Just fucking queue (it's what us Brits are actually good at) the first time!
And now to the result. Unless you've been living in a volcano in Iceland for the past two days, you'll know that we have a hung parliament for the first time since 1974 (so much for FPTP always returning a decisive result). The Lib Dem's are now in the position of kingmakers. True to what he's said during the campaign, Nick Clegg is talking first to the Tories, who do have a majority. Can't see a Con-Lib coalition to be honest. There are too many points of difference. The main one being electoral reform. The Lib Dems have long campaigned on changing the voting system from FPTP to PR and have said all along that a referendum on the issue is a deal breaker in any coalition negotiations. All the Tories are currently offering is an all party committee to look into the issue, which won't be enough. Incidentally, one of the reasons I vote Lib Dem is electoral reform and this graph says more than I possibly can about why it's actually needed: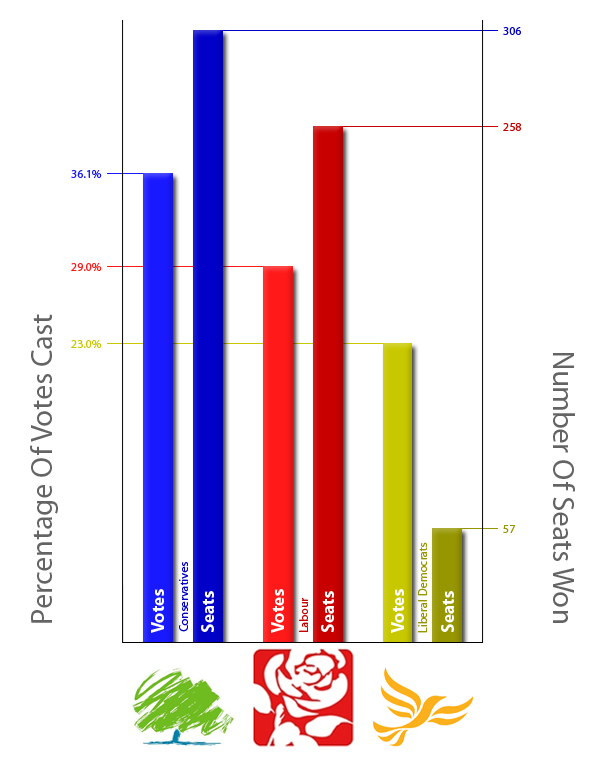 So, what do I think is going to happen? Well, one of two things. Either Labour will form a coalition with the Lib Dems, the SNP and Plaid Cymru (all of whom support electoral reform), possibly temporarily until the referendum is held. It's kind of out there at the moment, but it is possible. It's also (apparently) the option that most of the public want (two trending topics on twitter are #dontdoitnick and Lib-Lab. The other option is that the Tories will form a minority government, teaming with different parties on a bill-by-bill basis. I can actually see Cameron doing this and, if this happens, I'd easily expect another election within a year. The SNP are a minority government in the Scottish Parliament and that's barely working. I really can't see it working at all in Westminster. Either way, I really hope they don't rush into this for the sake of the news. Something this important should take a bit of time.
And whatever happens, there is real momentum for electoral change that's desperately needed and it will happen.
 
Will