Racism on primetime British television
NB: this is the first of an irregular series where, instead of just copy-pasting articles from other websites, I'm going to give my perspective on things. If you have any ideas for stuff for me to write about (UKcentric stuff preferred) leave a note.
At the moment on Channel 4 (one of Britain's terrestrial channels, meaning that anyone can watch it) there is a series called Celebrity Big Brother. A "spin off" from reality show Big Brother, this version features, as implied by the title, "celebrities" (usually people whose star is on the wane/people who you can barely remember in the first place).
But this year it's been marred by incidents that have actually become so big that the governments of two different countries have become embroiled.
I won't torture you by listing all the contestants on CBB, I'll just introduce you to the main players:
Shilpa Shetty: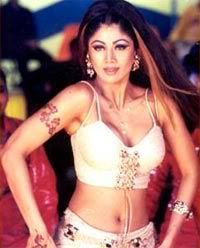 Shetty was a surprise entry to this years CBB. Not well known by most Brits, she is a major star in Bollywood having appeared in about 50 films.
Danielle Lloyd: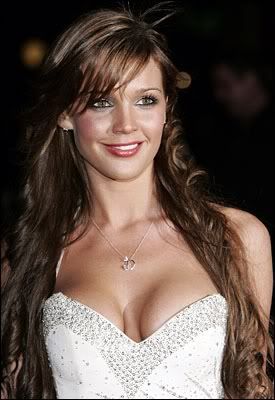 Miss Lloyd is famous for two things. 1) being a WAG (Wife And Girlfriend). On entering the house she was dating West Ham star Teddy Sherringham. 2) being sacked as Miss Great Britain in disgrace when it was revealed (by her during an interview) that she was dating judge Sherringham at the time of the contest.
Jo O'Mera: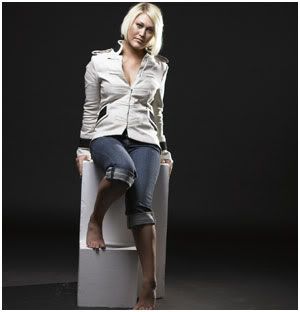 Former singer with the band S Club 7 (later changed to S Club) has not really done anything of note since the band split. And finally,
Jade Goody:
Famous for, well, appearing on the third series of Big Brother and a host of reality shows since then.
So, here's how it went.
Jade was introduced to the house the Friday after the show started along with her mother Jackiey (famous for being, well, Jade's mother) and boyfriend Jack (guess why he's famous? Apparently he's also a football agent in which case he ain't that good at his job).
Having already seen two contestants walk out of the house due to her behaviour, Jade then turned her attention to Shipla. And Jo and Danielle joined in.
Between them they said such stunning things as:
"You need a day in the slums. Go in your community and go to all those people who look up to you and be real."
"Indian people are so thin because they undercook their food and eat with their hands."
"I think she should f**k off home."
But the absolute highlight was when Jade referred to Shipla as "Shipla Poppadom. Her argument for the nickname?
"She's Indian and so will have an Indian nickname. It's not racist. Most Indians would not have a problem with that nickname."
OFCOM were flooded with complaints. In fact, the show is now the most complained about in British television history (40,000 to be exact). Effigies of Jade were burnt in India. The Indian government commented. Tony Blair, Gordon Brown and David Cameron (Tory leader) all commented.
The Carphone Warehouse, main sponsors of the show, pulled their sponsorship after warning C4 that they would have no choice but to do so if nothing was done.
And how did Channel 4 react, exactly?
They refused to pull the show off the air. They failed to remove Jade, Jo and Danielle.
Instead they made comments about sparking debate in Britain. They (naturally) watched the ratings climb.
Oh, and they put both Jade AND Shipla up for eviction Friday just gone. Which, of course, was immediately turned into a referendum over whether or not Britain is actually racist. (A view held by Gordon Brown, amongst others.)
As expected, Jade was evicted with 82% of the vote. There were no crowds for the eviction, no press conference after her eviction interview and Jade was taken to a safe house afterwards.
Meanwhile, Shipla's mother has said that, despite not liking Jade, she's worried for her safety and appealed for calm.
What does this mean for the four? Shipla is now favourite to win the series outright with bookmakers no longer actually taking bets. She's also expected to become the first Bollywood star to truly cross over to the West.
Jade's career (if you can call it that) should be over. The Perfume Shop has already decided to stop stocking her perfume 'Shhh!'. (The name of her perfume also mirrors the advice she should have followed.) But it won't be. The "rehabilitation" has already begun. And I can virtually guarantee that some enterprising production company (probably Endemol (the company responsible for BB) themselves) will have a fantastic idea for a documentary whereby Jade travels to India to learn about the people and the culture.
Danielle has already lost a modelling contract and her boyfriend. The later is no surprise considering that Sheringham is a) actively involved in the Kick Racism Out Of Football campaign and b) one third of his team-mates are coloured. Her career will be affected. But she'll likely claim that Jade bullied her into it and, erm, get her tits out to distract half the population of the country (the ultimate in "Look! Shiny thing!). She'll turn to glamour modelling and will probably be fine.
Jo's career is the most likely screwed. Considering she became famous for being in a band who's target audience were kids. She's already had her comeback gig at GAY nightclub cancelled after a vote on the clubs website. She too will claim that Jade bullied her into it. Expect her to also make an issue of the fact that one of her S Club band mates was coloured.
As for Channel 4? Well, even if Carphone Warehouse does permanently pull their sponsorship for BB (at the moment it's CBB only), they will have companies lining up to replace them. Viewing figures have gone up for a show that actually wasn't doing that well and they've all the money from the eviction vote calls/texts. (Although they are contributing money from the last vote to charity, in fairness.)
Still, they must have learnt from their mistakes right?
Erm, well…
Y'see they've another reality show that started on Sunday. And unlike CBB, this one goes out in a teatime slot.
One of the contestants on the show is 18 year old Lucy Buchanan. This is what she had to say on the first episode:
"When I look out at what Britain is, it's just a complete mess.
"I don't appreciate how people come into our country and take over our country. Britain's really not Britain anymore.
"My mind is completely open to different cultures, but I don't think they should bring them to Britain."
She added: "I don't like fat people, I don't really like really ugly people, I don't like it when foreigners come into this country and they don't take on British culture and British values.
"I'm for the British Empire and things. I'm for slavery, but that's never going to come back."
Yeah. There really is no way to describe that other thanracist.
And C4 actually haven't. The argument this time is that whenever Lucy airs opinions like this, the other contestants verbally slap her down. Which is actually a very good point and didn't happen on CBB (perhaps because the other contestants were scared that they'd be next).
But still. Allowing that to go out directly in the aftermath of the CBB thing wasn't exactly a good idea. So I'd suggest that changes need to be made in the upper levels of C4.
Chances are, it won't happen though.
Will