You're sick alright, but not physically…
One of the benefits of the Electronic Medical Record (EMR) system that we use is that if a patient is seen at any hospital in the country using the same EMR, we can view their records.  This includes notes from other providers, test results, etc.
Depending on the number of records, there is often a short delay as the system refreshes.  The more records, the longer the delay.  "Frequent flyers" can take a long time to load – the truly complicated patient, or the full-blown hypochondriac.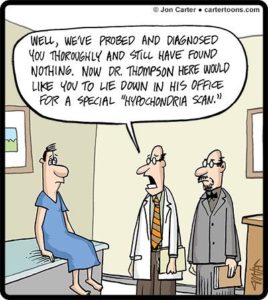 Today we saw one of the latter.  The system froze for so long we thought it had gone down.  This patient has been at every major medical center in a 250 mile radius, seen just about every specialist possible and undergone more scans, screenings and evaluations than we can count.  And there is nothing physically wrong with them.  (Unless you want to count the resolved 2013 yeast infection.)
I leave it to the mental health professionals to determine if this is boredom, a cry for help, or some profound need for attention, but it's rare to see someone so committed to wanting to be sick.  With Open Notes being the standard now, where patients have access to read what is in their provider record, I am sure this person has noticed that valetudinarian appears more than once.  A few actually commented outright that, "…patient is a hypochondriac."
I will give her credit, though.  In just the last 12 months she has insisted she has Fibromyalgia, Hypothyroidism, Crohn's Disease, MS, Bacteremia, and COPD.  She must be on the WebMD Hall of Fame at this point.
Someone suggested we could always sell her this: