While I have been rather lazy writing on OD (sorry), I have still been watching a lot of movies cause I love to catch a good movie. This year I saw a lot of good movies that knocked my socks off while others were total shit. It's been a year of ups and downs for film in 2019, but we all have some good movies to recommend should someone ask.
So without further adue, here are what I think are the best movies of 2019. If you agree/disagree with me, leave a note and let's debate it.  If your favorite movie isn't here that means I either didn't see it yet, or if I didn't I wasn't moved by it as much as you were and didn't like it as much.
This is just my opinion, but I'm always curious to know what knocked your socks off this year.
So these are the movie that wowed me this year:
10. Ford vs. Ferrari
I've always been a sucker for a good racing movie, but that this is based on a true story made it that much more exciting cause I had no idea if we'd get a happy ending, cause life can be rather unfair sometimes. Both Damon and Bale are brilliant in this movie that was both exciting and damn entertaining. I also found the story very interesting and enlightening as I really didn't know that much about this story or the race it's about. Very fun movie that most movie goers would enjoy, especially if you love racing movies!
9. A Beautiful Day In The Neighborhood
I grew up watching Mr. Roger's Neighborhood so I was hoping this film wouldn't ruin my childhood, and thankfully it didn't. The whole movie felt like a really big episode of Mr. Rogers which I thought was a unique approach to the story telling aspect of this film. Tom Hanks delivers as Fred Rogers, which just might land him another Oscar… but we'll have to wait and see. For fans of the show who grew up with Mr. Rogers, this is a great movie that gives insight to the man who was a hero, no matter how much he tried to deny it, as it was a beautiful movie about our favorite neighbor…
8. Jojo Rabbit
This has to be the most ambitious film of 2019… because the balls it must have take to direct this movie alone makes it Oscar worthy. A tender satire about a rather dark moment in human history. It's about a young boy in Germany during the second world war who is a part of the nazi youth group, and he spends most of the movie talking to his imaginary friend, who happens to be Adolf Hitler. The acting and writing was stirring and even heartbreaking at times. Scarlett Johannson deserves a supporting nod for her performance as the young boy's mom, and director Taika Waititi deserves a nod just for having the balls to make a film this outrageous and making it surprising funny and great. 
7. The Nightingale
I talked to a friend who watched this movie first, and asked him how it was. He wasn't able to answer, cause he walked out of it 20 minutes into it. I was stunned, as my friend rarely walks out of movies… as we both consider it unprofessional (as reviewers), but he couldn't handle it. I was like wow, I really have to check out this movie! After watching The Nightingale, I can see why my friend walked out. It is shocking, brutal and has some moments that had even people in my screening walking towards the door. Yet if you can get past the film's devastating opening, the film progresses into a stirring character piece about revenge and determination to seek closure in a new world. the actors in this movie were amazing and if you can get past the first 20 mins, you might be really moved by this stunning work.
6. Ad Astra
I'm a sucker for a good Sci-Fi movie, and Ad Astra is hand down the best Sci-Fi of 2019. With the feel and pace of something like 2001, this movie had a stirring plot, amazing acting and a tight finish that made the whole journey worth while. I really liked this movie and while it won't get any love come Oscar time, especially for Brad Pitt and Tommy Lee Jones, it's definitely a movie worth checking out if you like see all things Science Fiction…
5. A Rainy Day In New York
I've always been a huge fan of Woody Allen, and with "A Rainy Day In New York", he delivers another masterful film full of witty dialogue, great acting and a story while predictable was fun to watch as it unraveled before us. This is in my opinion Woody's best movie since "Midnight in Paris", and is totally worth checking out if you're a fan of his work. It's great to see younger actors take Allen's work and bring it into a new century, which made this cute little romantic comedy one of my favorites of the year.
4. The Two Popes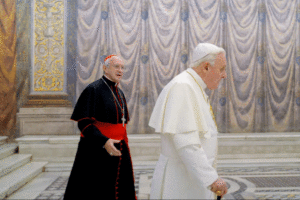 I'm not a very religious person, at all actually, but I still found this film about the story behind the scenes regarding Pope Benedict and Francis before and after Benedict stepped down as Pope, the first person to do so since the 1200s. I found the story very interesting and learned a great deal about both men as their conversations and stories were very fascinating and educational.  While I'm sure the truth was stretched a bit for the film to be entertaining, both Anthony Hopkins and Jonathan Pryce and amazing in their roles as the two Popes. A fun film that everyone will enjoy regardless if they're religious or not…
3. Yesterday
I am a huge Beatles fan, so when I heard about this movie I was very, very excited to check it out. Directed by Danny Boyle, this movie is about a young, struggling musician who is hit by a bus. Yet when he wakes up, he discovers that no one remembers the Beatles. No one except him. He has a moral dilemma to deal with as he can stay silent about what he knows or use the most iconic songs of the last century to resuscitate his ailing music career.  I loved the story and how this situation was approached, and it ended rather well, and made it for me one of the best movies of this year. A celebration of great music in an alternate world that doesn't remember the best band of all time. A must see for people who are fans of the band… such a great movie!
2. Once Upon A Time In Hollywood
Is Quentin Tarantino capable of making a bad movie? I've yet to be presented with any evidence that would suggest it's possible. Once Upon a Time In Hollywood is a love letter to Hollywood and how things happen in film and television. The cast is great, the story is cheeky and fun, and the payoff at the end will blow your fucking mind. It kind of twists history just a bit like Quentin kinda did with Inglorious Basterds… but this was the ended we all wished we could have had to this story, but real life was sadly far crueler. A great movie if you like to look back and laugh a bit. Not Tarantino's best movie, but still a hell of a lot of fun, with a great cast.
1. Joker
For a few months, this spot has been locked. When I watched the Joker, the film directed by Todd Phillips, I had a strong feeling that this would be topping my list at the end of the year… and my instincts were correct. The story is surprisingly simple but brilliantly acted, and the fact that there was Zero CGI in this film was a breath of fresh air as this was old school from start to friggin' finish. Joaquin Phoenix delivers his best performance since Walk The Line, and in my opinion is a damn lock for Best Actor this year, cause he carried this film from start to finish and was astonishingly brilliant in each scene.  Some people are saying this Joker performance is almost as good if not better than Leger's in the Dark Knight, and while I'm not sure it's worth having a conversation about regardless of your views. Yes, he was that damn good. Hand down, this was the best movie of 2019, and I wouldn't be surprised if this dark tale sweeps the Oscars in February…