Cos I haven't done one in a while. But first…
As most of you know, I'm on Twitter. But I have thought about leaving, or at least registering under a new username. Why?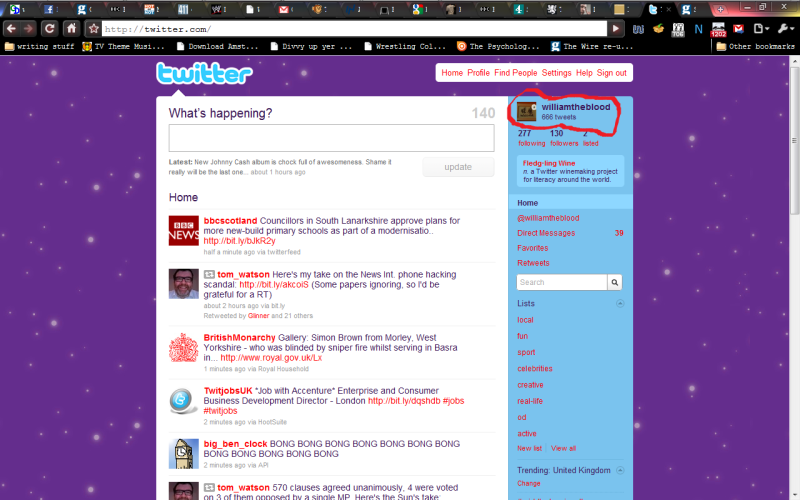 How can I disturb that twitter count?
And now to the survey. Yoinked fro toile_de_jouy
1. When you looked at yourself in the mirror today, what was the first thing you thought? I haven't looked in the mirror today
2. How much cash do you have on you? Not enough
3. What's a word that rhymes with "DOOR?" Spore
4. Favorite planet? Pluto. I was taught that it was a planet, therefore it is. Or my education was wrong…
5. Who is the 4th person on your missed call list on your cell phone? Random Boro number
6. What is your favorite ring on your phone? The TARDIS engine
7. What shirt are you wearing? Red 'I'm a keeper' t-shirt
8. Do you "label" yourself? I'm a freak, a geek and damn proud of it
9. Name the brand of your shoes you're currently wearing? Don't know, couldn't give a good goddamn
10. Bright or Dark Room? Bright. It's the uni library, it kinda has to be
11. What do you think about the person who took this survey before you? She gives good feedback. Seriously, she's read a lot of stuff I've written and the feedback is always exemplary. She should, IMHO, become a literary editor.
12. What were you doing at midnight last night? Watching Elimination Chamber
13. What did your last text message you received on your cell say? Can't really remember. Think it was a friend saying see you then.
14. Where is your nearest 7-11? Well, there's a Tesco Express near me that's open 6am – 11pm. Does that count?
15. What's a word that you say a lot? Frak
16. Who told you he/she loved you last? Can't remember
17. Last furry thing you touched? My beard
18. How many drugs have you done in the last three days? Nicotine, alomahol and caffine
19. How many rolls of film do you need developed? None
20. Favorite age you have been so far? Don't really have one, to be honest
21. Your worst enemy? Procrastination
22. What is your current desktop picture? The poster for the film version of The Girl with the Dragon Tattoo (which looks awesome. I can't wait).
23. What was the last thing you said to someone? Thanks
24. If you had to choose between a million bucks or to be able to fly what would it be? SHOW ME THE MONEY!
25. The last song you listened to? The last song on Johnny Cash's new album
26. Have you ever licked the back of a CD to try to get it to work? Nope
27. What's the largest age difference between yourself and someone you've dated? God, not sure… 3 – 4 years?
28. Ever been in a car wreck? Thankfully not
29. Were you popular in high school? Frak off. Not even remotely close
30. Have you ever been on a blind date? Yup
31. Are looks important? Not to me, no
32. Do you have any friends that you've known for 10 years or more? Yup
33. By what age would you like to be married? That's if I do. (Still need to find someone open to the whole Vegas/Elvis/midnight plan.)
34. Does the number of people a person's slept with affect your view of them? Why the frak should it? So long as their not sleeping with them when they're with me.
35. Are you a good tipper? Most of the places I go don't actually involve tipping
36. What's the most you have spent for a haircut? £10. I think. It's been over a decade since I've even been to a hairdresser for a haircut
37. Have you ever had a crush on a teacher? Nope. Though there were rumours that one of my teachers had posed for a porn mag…
38. Have you ever peed in public? Any male who answers no to this is either agraphobic or lieing
39. What song do you want played at your funeral? Trying to decide between 'Another One Bites The Dust' by Queen or 'Everything Must Go' by the Manics
40. Would you tell your parents if you were gay? Yup. Wouldn't see the point of living a lie
41. What would your last meal be before getting executed? Large chicken parmo, chips, salad and a rowie
42. Beatles or Stones? Both
43. Beer, wine or hard liquor? Lager
44. Do you have any phobias? Heights, hot water (but there is a reason for this) and being burried alive
45. What are your plans for the future? Writer
46. Do you walk around the house naked? Have done. But not so much now
47. If you were an animal what would you be? Snake
48. Hair color you like on someone you're dating? Don't frakking care
49. Would you rather be blind or deaf? Deaf. I'd still be able to read and watch TV/Films
50. Do you have any special talents? I keep getting told I'm a good writer so I guess I must be
51. What do you do as soon as you walk in the house? Take off jacket, take off boots, fire up and plug in laptop
52. Do you like horror or comedy? Both
53. Are you missing anyone? Not particularly
54. If you weren't straight, what person of the same sex would you do? Trent Reznor
55. Where do you want to live when you are old? Where ever I end up
56. Who is the person you can count on the most? Probably Nikki
57. If you could date any celebrity past or present, who would it be? Kristin Chenowith, Allison Hannigan, Stana Katic
58. What did you dream last night? Can never remember my dreams
59. What is your favorite sport to watch? Fitba!
60. Are you named after anyone? First name grandfather on my mum's side, middle name grandfather on my dad's side
61. What is your favorite alcoholic drink? Tennants (AKA Gods Own Lager). Spirit, it has to be Penderyn
62. Non alcoholic drink? Dr Pepper
63. Have you ever been in love? Yes
64. Do you sing in the shower? Sometimes I do
65. Have you ever been arrested? No. Have had a police officer suggest that I should be committed though…
66. What is your favorite Holiday? Hogmanay
67. Would you ever get plastic surgery? Kinda already have done. Well, skin grafts anyroad (see 44)
68. Have you ever caught a fish? Nope
69. What is your favorite movie? Depends. What kind of mood am I in?
70. Where do you want to go on vacation? Anywhere that isn't Aberdeen. Seriously. My upcoming trip to London will be the first time since 1999 that I'll be leaving Boro for ANYWHERE that isn't Aberdeen
Will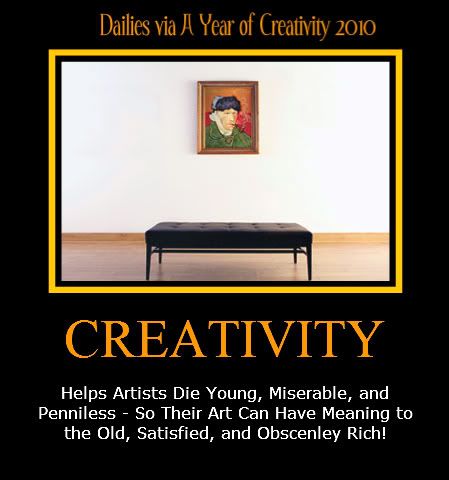 <img src="http://www.sendcoffee.com/dog-o-matic/wanon.jpg&quot; border=0 alt= "[ Writers Anonymous logo ]">