I'm still alive and kicking…just been very busy.
At the end of July we went to Orange Beach, AL.  We got a condo and it was Jose' and I, Stephen (our son), Ashley and their two boys, Kinley (our daughter) and her boyfriend and my best friend Bonnie.  We stayed four nights.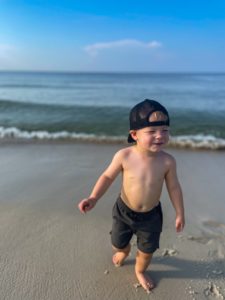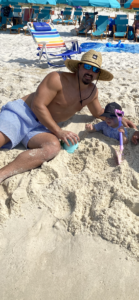 Jose' and I have made a couple more trips to Texas.  We went last week to take care of Beau while Stephen and Ashley were at the hospital with Walker.  He had his first chemo treatments.  We are going back next week for five days when he goes in again.  I wish we lived closer to them so we could help even more.  They got the results of his full body MRI.  If any cancer cells were found then he was going to also have to have radiation.  NO cancer cells were found!!  We are so very happy about that…thank you God for answered prayers.
Our oldest daughter, Kaylyn, had her baby…a little boy named James Harrison.  He is a beautiful baby with dark hair like his mama.  We now have four grandkids :-).
Yesterday was Jose' and my 36th anniversary.  We both forgot.  I didn't remember until later in the morning when I went to pick up a prescription and saw the date on something.  I guess we've just been so busy it slipped our minds but we do realize what a big deal it is…36 years is a long time.  Jose' and I eloped when I was only 19 years old…he was 21.  Many people didn't think it would last.  One lady even told me she'd give it a year.  They were wrong.
So, that's what has been going on with me.  For anyone who prays, please pray for little Walker.  This chemo is going to be hard on his little body.  I hope and pray it doesn't make him very sick.  Thank you.
Vicki