אני קושית יפה/I'm a Cute Black Girl Pg 18

Anyone that knows me; will tell you how I always liked to work ahead and know it all and prove everyone wrong and I could be an over achiever.
Nothing wrong with those qualities, but when I see someone else doing all that, I do get irritated with them and tend to find them annoying. 

Over the past few days I have been  trying to make time for my studies. And I have gotten my Hebrew Writing to look a lil neat…I mean it is no easy task writing in Hebrew, and when I think real hard, I am able to actually read a few words on my own. Like during class yesterday, while Mora R was explaining something to us, I was able to read a few words… like
קידוש – Kiddush which is the prayer over wine on Shabbat and Chaggim (Festivals)
שבת – Shabbat. I actually learnt last week that Friday isn't Shabbat…well I always thought that Shabbat was just Friday night…but it is actually Saturday and Friday is יום שישי …which is actually the number 6 too…
I have always know how each Jewish Chag (Festival) has a special dish attached to it. So today while doing something, which is a pretty much every day norm with us Jews By Choice Students, is to chat to each other on WhatsApp and share whatever new discoveries we have stumbled upon. Like yesterday a fellow student found 2 Pentateuch (Torah Books) that a Barmie Boy received…that is kinda making me want to go hunting for 2nd hand Jewish Scriptures.  
Anyway today we were all talking about the different foods and how we would like to learn to make some of them. I never took to Hamantashen
  But no reason why I cannot learn to make them…. I suggested in the group how we should prepare get togethers before each Chaggim, so we can learn to make the food item that is associated with it. I would love to learn how to make Challah…and I would love to learn how to make Kneidal..
 I have the box mix for latkes…and they are so yummy…
Talking about Traditional Foods for Jewish Chaggim…next week at the Shul we will be having our mock Pesach Seder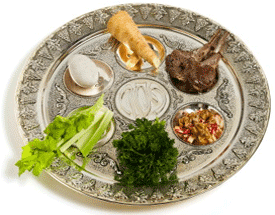 I have already printed my Progressive Shul's Hagadah…I hope to actually own a collection of them in hard copy. I look forward to hosting a Chag Dinner. Even though I was not going to a Jewish School, I grew up celebrating all the Chaggim…going shopping for the perfect outfit for Shul and Seder Dinner; which was either at out house or at a family friend's house…my father's duty was to buy mountains of flowers, so we could spread fresh joy throughout the house, and then sometimes there would be gifts from my parents to my sisters and I…and shopping for the ingredients for the dishes, my mother would make and have made, was endless. Nothing is better than walking to a house and just smelling delicious food…
I want all of that. I want to have a home full of family and friends…full of love and tradition. Makes me wonder if that is why I am actually converting…over the past few months, I feel as if I have found something that I have been missing since I lost my mother…and that was community.